The Tick character, comics and cartoons are copyrighted by Ben Edlund, New England Comics, and Fox Kids. I'm probably omitting a genius or two.
Awards
I'm thankful for these...now that I've spiffed things up a bit, maybe I'll apply for more!

This site has won the Drooling Barry Award!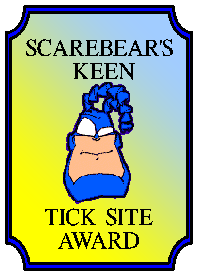 This site has won Scarebear's Keen Tick Site Award!